CHILDREN'S BOOKS – COMIC BOOKS – HANDMADE TOYS – ORIGINAL ART – AND MORE!
---
SOCIALS, MEMBERSHIPS, AND KEEPING UP WITH OUR SILLINESS…
---
WHERE TO BUY…
---
WHAT'S NEW…? NEW BOOKS!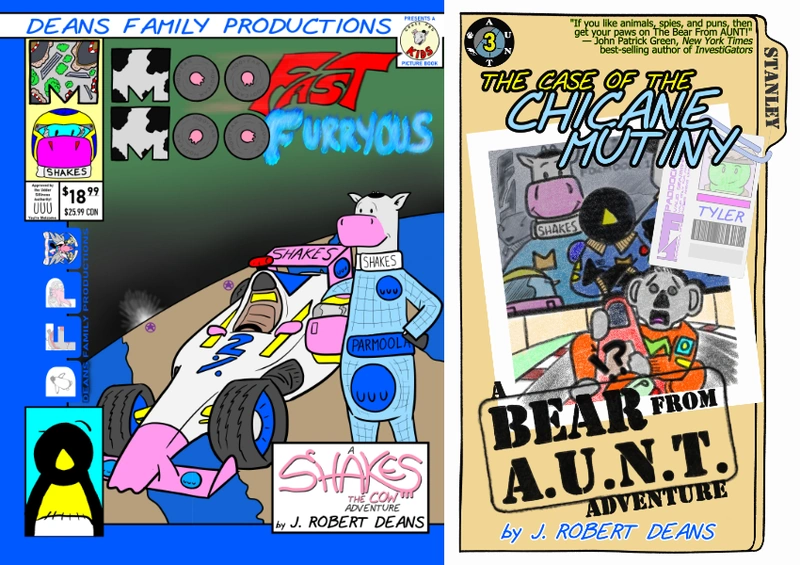 TWO NEW BOOKS FROM DFP!
Coming MARCH 28 to a bookshop near you are MOO FAST, MOO FURRYOUS, the third Shakes The Cow Adventure new to paperback, and Stanley's third book, THE CASE OF THE CHICANE MUTINY: A Bear From AUNT Adventure! Both books feature the story of Shakes' adventures as a Formoola One race driver for two different age groups! Use the links below to learn more and Pre-Order your copies!
Prefer Brick & Mortar shopping? Give your bookseller the following ISBNs:
MOO FAST, MOO FURRYOUS: 978-1-943348-25-1
THE CASE OF THE CHICANE MUTINY: 978-1-943348-31-2
---
UPCOMING APPEARANCES
---
READ FREE PREVIEWS OF PATREON'S EXCLUSIVE "GRAND PUNWICK MYSTERY THEATER"
---
MEDIA / PRESS ARCHIVE